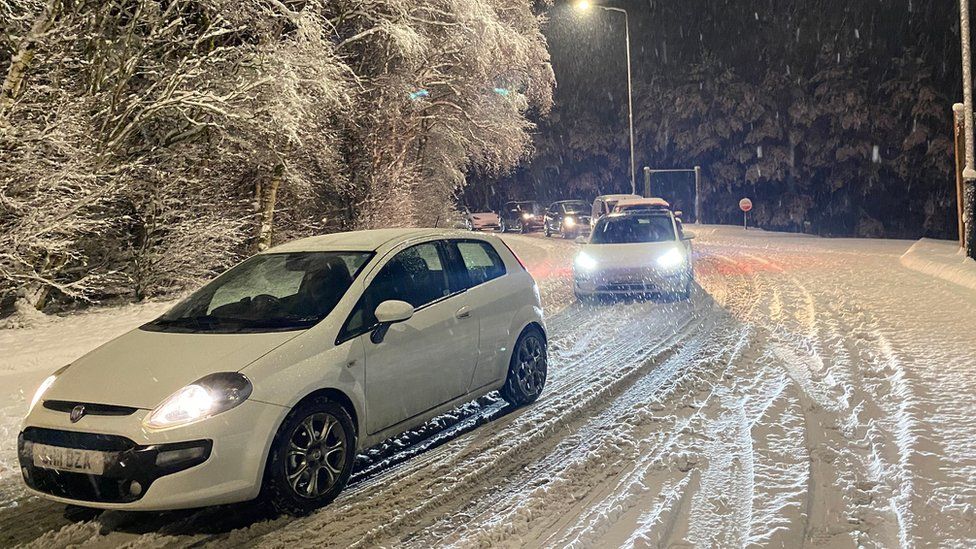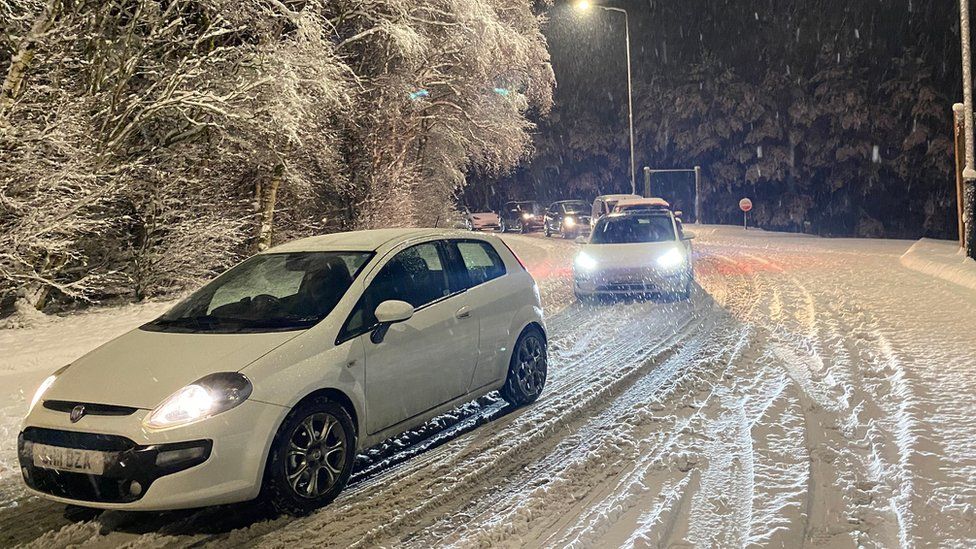 Image source, ANNA MACMAHION
Image caption,
Among the roads badly affected by the heavy snowfall were the M6
Drivers have spent the night in temporary accommodation or stuck in their cars after heavy snowfall caused widespread disruption in Cumbria.
A major incident was declared by police on Saturday evening, with an estimated 200 vehicles marooned in the South Lakes area.
Reception centres were set up for those stranded, and emergency services worked to reach people trapped in vehicles.
Cumbria Police has urged people to only travel in the county if necessary.
A yellow warning for ice remains in place until 11:00 GMT.
Ant Brett, from Essex, travelled to Cumbria for a family wedding, but the conditions meant he was driving for 19 hours and never made it.
"I've been stuck since 4pm on Saturday," he told the BBC while waiting on the A595.
"I was heading up to a family wedding. It's fair to say I didn't make it.
"The cars here haven't had any water or food supplies. I'm down to my last bit of water and having to ration it.
"I know the emergency services are busy but we've just been left here without help."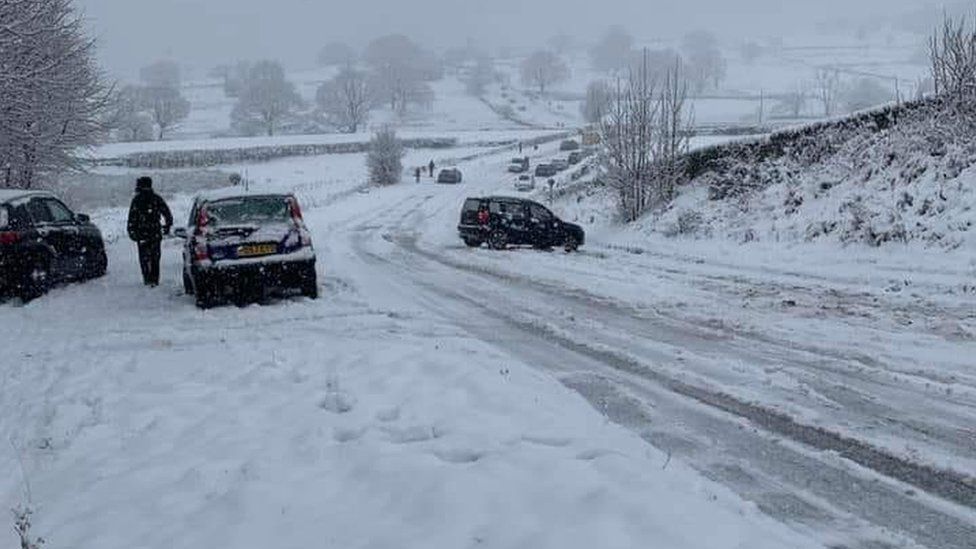 Image source, LUCY MAEDER
Image caption,
At one point, Cumbria Police estimated 200 vehicles were stuck
Cumbria Police said among the roads affected on Saturday evening were the M6 due to jack-knifed lorries, and the A595 which was impassable.
The force urged people not to travel, or if they decided to leave their vehicles they should try and move them to the side of the road so emergency services could reach those who were trapped.
Supt Andy Wilkinson described the conditions as challenging.
"We are aware of a number of incidents in which highway teams and those assisting in the efforts to support those affected by the snow have been verbally abused," he said.
"We understand people's frustration during this time. However, agencies are working hard to improve the situation in Cumbria and are also facing the challenging road conditions when responding."
He added that the snow had been "much more significant than forecast".
Those involved in the multi-agency approach along with the police were fire and rescue crews, ambulance and mountain rescue teams.
Communities came together across Cumbria to open up emergency reception centres offering food, drink and shelter to those who were stranded.
David Pittam, who was among dozens of people trapped in the village of Hawkshead, said people had spent the night in the local primary school and scout hut, while local residents had opened their doors to others.
"Very kindly the local vicar has put us up for the night. Us and I think it's a brass band who all got stranded here," he said.
"They were supposed to be performing Christmas carols and couldn't make it back to where they lived.
"So it's us and a brass band up at the vicarage so its very Christmassy in a way."
Train operator Northern said railway lines between Lancaster and Carlisle were blocked due to the severe weather and warned people not to travel.
Stagecoach Cumbria and North Lancashire said it would not be able to run some buses until roads were passable.