1928 Mercedes discovered in garage after 60 years to be auctioned
1928 Mercedes discovered in garage after 60 years to be auctioned
Published June 20, 2012
FoxNews.com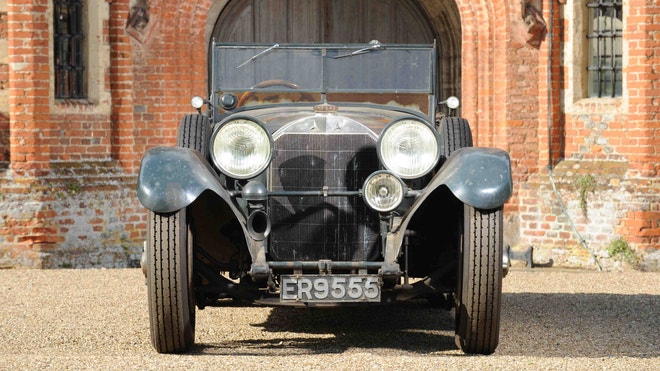 An 84-year-old Mercedes-Benz that was left forgotten in a garage for more than 60 years could fetch as much as $2.5 million at auction in September.
The one-of-a-kind car, which was only recently discovered by the original owner's grandson, still runs flawlessly and has never been restored. Last driven in the 1950s, the car will be up for auction at Bonhams' Goodwood Revival sale in West Sussex, England, on Sept. 15.
"It was an overwhelming amazement to me that such a car existed," said Rupert Banner, the Bonhams specialist who worked with the Mercedes' owner. "It's like the holy grail of our industry to find something like it."
The one-owner car, which does not have an odometer, is believed to have less than 100 miles on it and was "cherished" by its owner, Banner said.
"It's like buying a car that is exactly the same as if you bought it 84 years ago," Banner said. "It's like a 'time warp' car."
When it was first manufactured, the S- Type Mercedes-Benz Sports Tourer could reach 100 mph, making it among the world's fastest of its time.The unidentified owner's grandfather was one of the earliest buyers of the car when he bought it from The British Mercedes Ltd. dealership in London.
Read more: http://www.foxnews.com/leisure/2012/06/20/2-million-mercedes-left-in-garage-for-60-years-to-be-auctioned/?intcmp=obnetwork#ixzz1z60MxeIW
houston auto appraisal, chicago auto appraiser, nashville auto appraiser, orlando auto appraiser
Pinnacle Auto Appraisers
We are dedicated to offering you immediate and reliable customer service whether it be on the phone, via email or through our online ordering system. Our company prides itself on being able to handle all of your auto appraisal needs. Feel free to call or send us an email to schedule your appraisal(s).
Our Certified Auto Appraisers look forward to serving you!

---
Follow Us Online - Google
This email address is being protected from spambots. You need JavaScript enabled to view it.
---
Download Android® App
atlantaautoappraisal.com, austinautoappraisal.com, baltimoreautoappraiser.com, boiseautoappraiser.com, charlestonautoappraiser.com, charlotteautoappraiser.com, chicagoautoappraiser.com, clevelandautoappraiser.com, coloradoautoappraiser.com, dallasautoappraisal.com, denverautoappraiser.com, detroitautoappraiser.com, diminishedvalueappraisal.com, houstonautoappraisal.com, kansascityautoappraiser.com, lasvegasautoappraiser.com, littlerockautoappraiser.com, losangelesautoappraiser.com, miamiautoappraiser.com, minneapolisautoappraiser.com, mobileautoappraiser.com, nashvilleautoappraiser.com, newarkautoappraiser.com, neworleansautoappraiser.com, oklahomacityautoappraiser.com, orlandoautoappraiser.com, philadelphiaautoappraiser.com, phoenixautoappraiser.com, pinnacleautoappraisals.com, portlandautoappraiser.com, sanantonioautoappraiser.com, seattleautoappraiser.com, statedvalueappraisers.com, tampaautoappraiser.com, texasautoappraiser.com
FLEET VEHICLES:
Pinnacle Auto Appraisers prides itself on quickly handling large amounts of vehicles. We routinely handle fleets for: vans, trucking, limousine, shuttle, buses, SUV, corporate, taxi, dealership, clubs, rental, and delivery companies. We handle large national chains, small family businesses, and car club appraisal(s).
Accident:
If you were involved in an accident and the insurance company deemed your vehicle a total loss, we can help. If you don't agree with the insurance company's offer, you have the right to hire an independent certified appraiser to determine the actual cash value of your vehicle. Our certified appraiser will go to the vehicle location, conduct the inspection and complete a certified total loss appraisal on your vehicle. Total loss claims do require a negotiation phase which we will take care of for you at no additional charge!
CAR CLUBS & REPAIR SHOPS:
Our Appraisers are repair shop and car club fanatics! We enjoy when local and national clubs invite us out to their local gatherings. We recently offered an appraisal discount that lasted all month. We love everything that has an engine and drives on the road. We do our best to help everyone in need of an appraisal!
Pinnacle Auto Appraisers - We Value Car Clubs and Repair Shops!