Pinnacle Auto Appraisers' Blog
Keeping the auto appraising industry up to date with important auto industry and appraiser information.
2 minutes reading time
(443 words)
Man arrested after allegedly ramming, stealing and crashing multiple cars in Perth - ABC News
A 28-year-old man has been arrested in Perth over a series of incidents across the metropolitan area, including a six-car collision.
Key points:
Police from numerous districts were called to attend the incidents A man was arrested on the Kwinana Freeway on Saturday morning Investigations into the series of incidents are ongoing

The man was reportedly involved in the six-car crash on Warton and Amherst roads in Canning Vale just after 8:00pm on Friday before allegedly ramming and stealing a black Mazda CX-9.

The man then drove the Mazda towards the Kwinana Freeway, where police allege he rammed and attempted to steal another vehicle on the South Street on-ramp.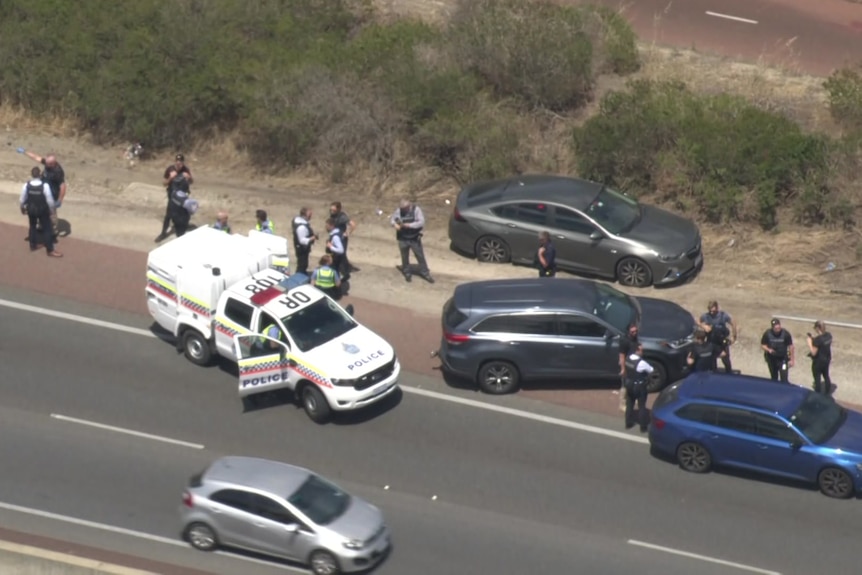 Dozens of police were called to assist in the series of incidents which began on Friday night and ended on Saturday.(ABC News)
The man then allegedly abandoned the Mazda, and left the scene on foot.
Car ploughs into home
About 8:40pm, police said the man went to a house on Earnshaw Loop in Leeming, where he allegedly stole a red Volkswagen Jetta, before travelling to Westminster Street in East Victoria Park around 10.30pm and crashing into a parked vehicle, which then ploughed into the front of a home.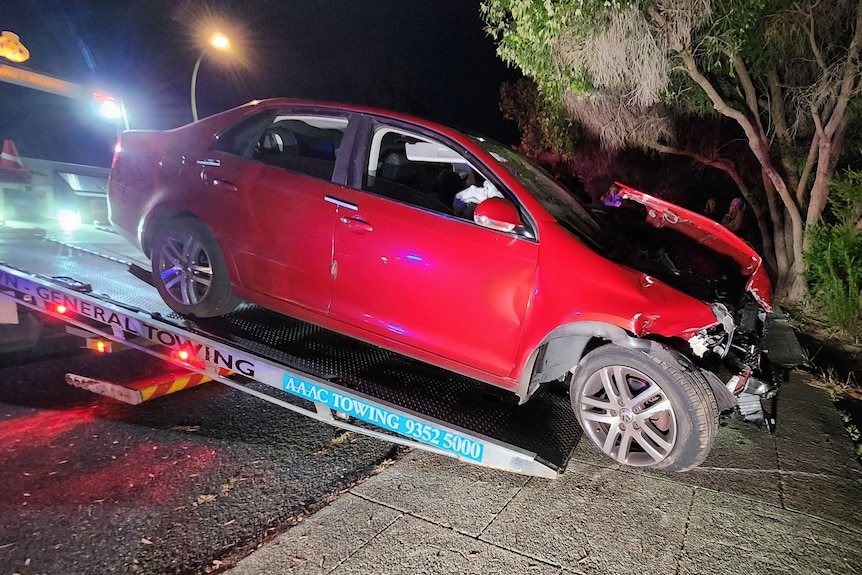 One of the cars damaged during the alleged crime spree.(ABC News)
The man was said to have then gone to another address on Westminster Street, where he allegedly stole a grey Mazda 3.
Police say the man travelled in the Mazda to a number of locations across Perth on Saturday morning before being taken into custody on the Kwinana Freeway in Hammond Park at around 10:20am.
Man armed with small axe, police allege
Superintendent Mark Longman from the Armadale District Office said police believed the man, who was out on bail, was armed during the incidents.
"When he was apprehended, he was apprehended in possession of a small axe, or hatchet, tomahawk, whatever you like to refer to it as," he said.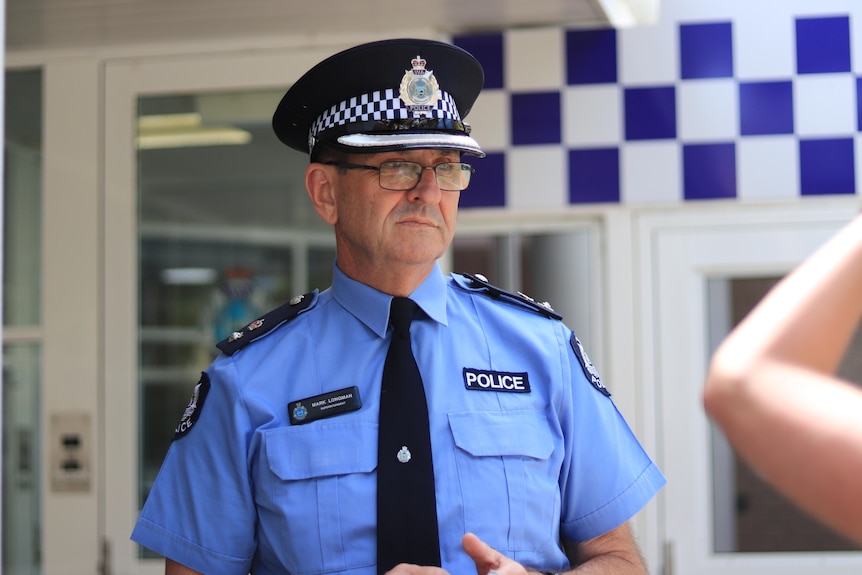 Superintendent Longman says the man they arrested was on bail.(ABC News: Ashleigh Davis)
"We believe that may have been used in some of the offending."
The superintendent said authorities put significant resources in to locating the alleged offender.
"It was violent, aggressive behaviour, and it would have left some of the victims quite shaken and feeling quite unsafe," he said.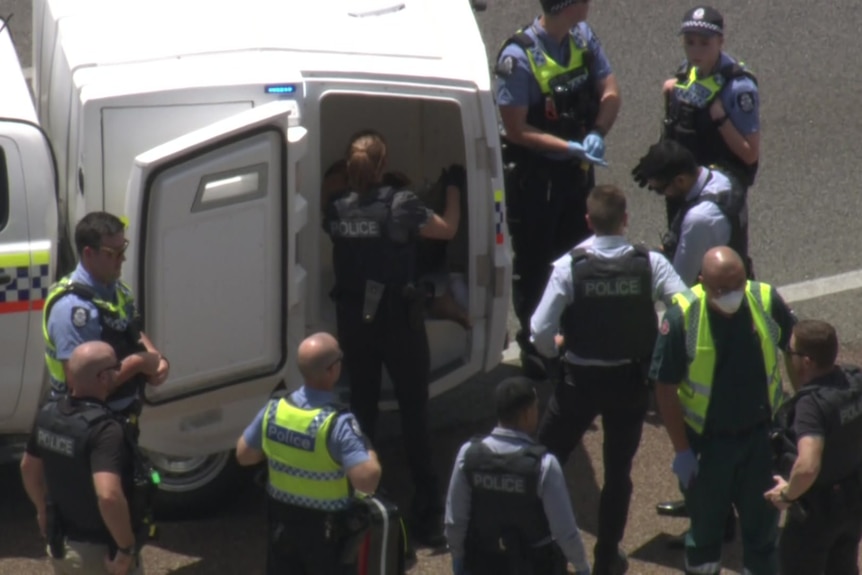 The man was arrested on a Perth freeway in relation to the series of crashes and thefts.(ABC News)
"We're still unpacking, unpicking everything that went on."
Inquiries remain ongoing and anyone with information about the incidents is urged to contact Crime Stoppers.
Posted 1h ago1 hours agoSat 10 Dec 2022 at 6:28am, updated 35m ago35 minutes agoSat 10 Dec 2022 at 7:47am
About the author
200 Plus years combined appraisal knowledge for your car and vehicle appraisal needs. Automobile diminished value and total loss is our strength. We will help you find the value of your property.
Pinnacle Auto Appraisers
We are dedicated to offering you immediate and reliable customer service whether it be on the phone, via email or through our online ordering system. Our company prides itself on being able to handle all of your auto appraisal needs. Feel free to call or send us an email to schedule your appraisal(s).
Our Certified Auto Appraisers look forward to serving you!

---
Follow Us Online - Google
This email address is being protected from spambots. You need JavaScript enabled to view it.
---
Download Android® App
Call Us Toll Free!
1-877-988-9911
Email: This email address is being protected from spambots. You need JavaScript enabled to view it.
Call: 1-877-988-9911
FLEET VEHICLES:
Pinnacle Auto Appraisers prides itself on quickly handling large amounts of vehicles. We routinely handle fleets for: vans, trucking, limousine, shuttle, buses, SUV, corporate, taxi, dealership, clubs, rental, and delivery companies. We handle large national chains, small family businesses, and car club appraisal(s).
Accident:
If you were involved in an accident and the insurance company deemed your vehicle a total loss, we can help. If you don't agree with the insurance company's offer, you have the right to hire an independent certified appraiser to determine the actual cash value of your vehicle. Our certified appraiser will go to the vehicle location, conduct the inspection and complete a certified total loss appraisal on your vehicle. Total loss claims do require a negotiation phase which we will take care of for you at no additional charge!
CAR CLUBS & REPAIR SHOPS:
Our Appraisers are repair shop and car club fanatics! We enjoy when local and national clubs invite us out to their local gatherings. We offer an appraisal discount that lasted all month. We love everything that has an engine and drives on the road. We do our best to help everyone in need of an appraisal!
Pinnacle Auto Appraisers - We Value Car Clubs and Repair Shops!